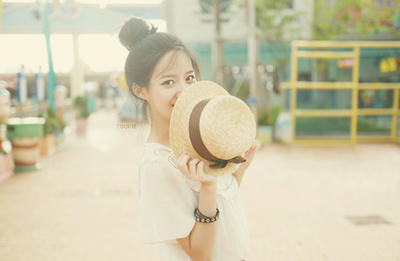 I am quite pleased. Really, smug as a bug with a jug (or however you want to say it). I feel light, happy, content.
I made cheese.
No, not some hunk of aged goodness that was made to sleep for months in order to develop layers of complexity. But certainly a step above my straining yogurt! This time, I strained curds...curds that I can say I coaxed into being all on my own. Innocent looking, soft, dreamy, blindingly white curds. Curds a certain Miss Muffet would love to have. You see I used carabao's milk (carabao is our native water buffalo). It contains less water, more total solids, more fat (50-60% more!), and more protein than cow's milk!
Nestled in cheesecloth, these super-rich curds looked so the embodiment of tranquility that I wanted to curl up beside them in a tuffet and take a nap
cheap designer sunglasses
.
Ahem. Back in the real world, there was work to do and dinner to make, so I gathered the cheesecloth and made a makeshift drainer (tied the cheesecloth with cooking string and tied the ends to the handle of a small bucket so the cheesecloth with the curds were held suspended in mid-air while the curds drained in the bucket – it doesn't make sense I know but Mcgyver would be proud) and placed it in the fridge. And while I worked all day, my happy thought was my homemade carabao's milk ricotta, tucked away and ready for breakfast the next day.
Ricotta
(from Donna Hay Magazine issue 35, page 153)
6 cups full cream milk (I used carabao/buffalo milk)
2 tablespoons white vinegar
- Place the milk in a sauce pan and heat until it reaches 80C (use a candy thermometer). When it reaches 80C, remove from the heat and add the vinegar. Allow to sit for 5-10 minutes or until curds form (mine took longer than 10 minutes).
- Line a colander with fine muslin or cheesecloth and place over a bowl. Using a slotted spoon carefully ladle the curds into the colander. Allow to drain for 5-10 minutes.
- Spoon ricotta into a glass or ceramic container and cover with plastic wrap. Store in the fridge for up to 1 week
Teeth whitening
. (I kept mine in the draining contraption I put together until the next day)
The recipe didn't yield as much curds as I hoped it would, but they were rich and creamy and delicious. I had it for breakfast on a thick slice of sunflower bread, topped with fig preserves. The lack of a tuffet to sit on did not detract one bit from the heavenly experience of eating my own homemade ricotta.
Next time I'll be trying this recipe...also done here. I hope this method of heating buttermilk and regular milk together will give me more curds to enjoy :)
We escape the muggy city tonight with a group of good friends for a weekend of relaxing by the pool, easing some well-deserved cocktails into our work-worn bodies, and, of course, enjoying good food. I may even find myself a comfy tuffet in which I can burrow with a good book :) Happy weekend everyone
Office Interior Design
!